The price on the proposal is just one indicator of the true cost of ownership when it's time to make a purchasing decision. Before you sign the dotted-line, did you really do the life-cycle costing analysis associated with your Oil Water Separator purchase?
Unsure what LCCA is?
In short, this analysis determines the most cost-effective option among different competing alternatives to purchase, own, operate, maintain and, finally, dispose of Oil Water Separators, when each is equally appropriate to be implemented on technical grounds. Upfront savings are often made up on the backend by higher costs to maintain: higher costs of parts or long leadtimes mean increased outages, inherent designs that require more manpower to maintain due to complexity and power useage and waste are all factors in why your initial savings can end up costing you in the long run. Read more to ensure you've covered all your bases.
When evaluating various manufacturers' oil water separator offerings, there are some very important considerations to make in regard to total life-cycle costs of the equipment. Like most industrial wastewater equipment, an oil water separator is not a set-it-and-forget-it system. The initial purchase price of the separator is only the "tip of the iceberg" when it comes to understanding the overall cost during its useful lifespan. Procurement, installation, and maintenance costs are the three main areas that need to be carefully analyzed to help ensure the various manufacturers' equipment offerings are being fairly compared.
Mercer International provides an informational document which serves as a review of both the initial and long-term costs that should be considered when comparing oil/water separator designs, and explains how investing in a Compliance Master™ oil/water separator saves clients substantial operation and maintenance capital. Like anything else in this world . . .you usually get what you pay for…or less! Mercer takes great pride in being a leader in oil water separation design. Superior design produces superior results. Superior results make the choice for a premium product easily justifiable to the end user once they clearly identify the long-term benefits and cost savings obtained by a more thoughtfully-designed system. The Mercer advantage offers an end user a better solution with higher performance and substantial operational cost savings over the life of the equipment.
Demonstrating this long-term savings, while protecting the end user from environmental citations and fines, is the focus of this document.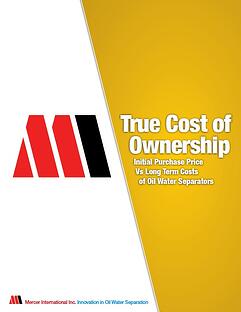 Click here to read more about the True Cost of Ownership.